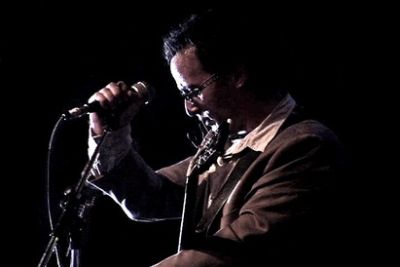 is a documentary chronicling one bluesman's struggle to obtain a "record deal" before his 30th birthday. The film opens in California, with a 29 year-old Johnny Childs (a.k.a. Yonah Krohn) crashing on a friend's couch. The year is 2001, just 6 months before his self-imposed deadline. He is broke, living off of the kindness of his friends and pawning his guitar from week to week for survival money. The camera follows Childs through the various steps he takes to try and achieve his goal; cold calling record companies in attempt to get people to come to his showcases, paying homeless people to wear signs that count down the days until his deadline and even trying to weasel his way on to The Howard Stern Show. The singer/guitarist is charming, talented and very determined. His professional struggle is engaging and relatable, but the film's real strengths lie in the story of Childs' past and in the struggles of his personal life.
Born to a large and "ultra-conservative" Orthodox Jewish family, by age 12 Yonah Krohn (a.k.a. Johnny Childs) had already fallen into bad habits and found trouble with law (on several occasions). Outcast from his family, he spent his early teenage years as an entrepreneur, running everything from cleaning companies and painting businesses to dealing drugs. By age 15 he was a little Jewish Tony Montana, completely on his own and the toast of the town; dealing cocaine in Miami Florida to a wealthy clientele that included fashion model industry. It was during this time that he took up playing the guitar. He spent the following years honing his musical skills, being thrown off of open-mic stages in New York, fronting a hard-rock band in Israel and finding his calling as a blues artist in California. As the film brings Childs' trials and tribulations up to the present day of 2001, we see the unknown bluesman struggling to take care of his drug addicted brother, failing miserably at running a 'speed-dating' service and spending over a week in the L.A. County Jail for outstanding traffic warrants. The musician/filmmaker's story is easily compelling enough to keep you intrigued for the full running time of almost 2 hours. He has led an extraordinary life and amazingly most of it seems to have been captured on video. The sheer amount of footage spanning the entirety of his 30 years (up to 2001) is nothing short of astounding. As a filmmaker, he weaves an engaging underdog tale that manages to be both familiar and fascinating. This film took 8 years to complete and proves to be just one more example of Childs' undying determination. I recommend THE JUNKMAN'S SON to both music and film lovers and I strongly urge blues fans to check out Johnny Childs' music. Perhaps the film's biggest flaw is that it and his life, overshadow his music and the fact that he is an exceptional blues talent; with a unique guitar-style and infectious energy.
The heavy courage and stick-to-it attitude that bluesman Johnny Childs reveals through this two-hour documentary film makes you sit up and wonder. Can a love of the blues carry you through teenage runaway depression, estrangement from an Orthodox Jewish family, addiction, rejection, incarceration and temporary homes around the world?
Determined to make it as a blues singer and guitarist, Childs fought against those obstacles with passion. As the film depicts clearly through commentary and great music, he eventually made it. Filmed all over the greater Los Angeles area and elsewhere, the documentary includes local speakers and musicians such as J.T. Ross, James Harman, Cadillac Zack Slovinsky and Rick Holstrom as well as Childs' friends and family members from all over the world.
Born 1972 in Brooklyn as Yonah Krohn and later taking the stage name Johnny Childs, he came from a devoutly religious family; his father and several of his brothers are rabbis. The youngster attended eight elementary schools in four different countries. The story of his early years is different from the norm, but contains the same elements that many bluesmen harbor: an aching desire to play the blues in spite of numerous obstacles.
The film's musical score contains all kinds of good sounds. Jimmie Vaughan, John Lee Hooker, Otis Taylor, Jimmy Smith, William Clark, and Miles Davis are represented. And there's plenty of Childs' music in various stages of development. The documentary was eight years in the making. He's played with local musicians as well as folks in New York, Toronto and elsewhere.
While much of the film footage consists of brief, personal glimpses of the artist at home among friends, there's ample blues music to create a mood both meaningful and on target. Watching him build the business end of his career, you gain respect for everything else that goes on in addition to learning how to play and sing. Childs shows that day to day activities; such as taking care of family and friends, connecting with club and PR personnel, and preparing your own publicity; matters a lot when it comes to building a career from the bottom up.
Fortunately, he's a marvelous blues guitar player in the mainstream tradition. He slides with finger-bending expression, dips and jumps with persuasion, and carries a melody firmly. The film draws a distinct parallel between religious music and soulful blues: both come from the heart and both serve to inspire. The scenes shot in Israel and Toronto feature Childs' family and the kind of culture that relies on spiritual guidance. It's all there.
In Los Angeles, he's always on the go. Every gig requires promotion and Childs makes sure that he and his band mates won't go broke with Kinkos' frequent flier miles under his belt. Hard work and creative ideas spell success for each of his adventures. As long as blues harmonica, guitar, vocals and rhythm accompany him, Johnny Childs is on his way and proud to be getting there.
The Junkman's Son is an original and touching music dramedy, a modern day version of "A Deal at the Crossroads" and a must see for film and music fans, especially anyone chasing a dream".
Combine extreme talent, perseverance, the drive to land a record deal, a love for the blues and you have captured the persona of the solid bluesman, Johnny Childs. "Groove" Child's long awaited cd runs the gamut from Chicago blues style music to R&B influenced tunes. Joining Childs to round out his blues band are Cliff Schmitt on bass, drummer Michael Bram and piantist/organist Dave Keys. "Groove" combines a traditional style of blues music with Johnny's own experimental style of blues guitar. His unique vocal style and expert guitar skills sets the stage for a full length cd produced by Grammy Award winning producer Bruce Bromberg.
The CD opens with "Black Bag Blues", capturing his listeners early with his hard driving guitar style. "Walk the Floor" is slower blues number with Childs further displaying his skills a veteran blues guitar slinger. He captivating boogie style guitar rocks with "Don't Quit the Man". He completely breaks tradition with the gypsy style tune "Junkman's Son" dedicated to his fascinating documentary film that chronicled his life and his struggle to obtain a record deal called The Junkman's Son. He continues with a 60's rock-blues style number titled "Back In the Middle". He once again returns to a more traditional, slower blues cut "Leaving In the Morning". His use of the wah pedal brings back shades of the 60's group Cream in "Find My Baby" The cd continues with his return a Chuck Berry boogie guitar style heard in "Thumbs Boogie" and "Chromatic Boogie". "I'm a Ram" introduces a horn arrangement, bringing yet another element to this unique collection of the blues. "Don't Leave Me Baby" in my opinion showcases Johnny's guitar style and vocals in this new cd filled with variety. The cd wraps up with "Rollaway the Stone" and a less traditional blues number "Fairwell My Love" on which he tears up the fretboard. "Groove" concludes with a famed Jeff Healy number "See the Light" Johnny Childs style.
Blues followers will soon come to recognize this well hidden Southern California blues secret after listening to the Johnny Childs blues cd "Groove". His vocals have been compared somewhat to Tom Waits but he has a guitar style all his own!
Meet Yonah Krohn, a.k.a. Johnny Childs. He's handsome, funny, shrewd, crude and maybe even slightly demented. But no doubt he is one sensational blues artist who has even been likened to a Picasso of the genre. Most importantly Johnny is one of the most determined human beings of our generation. So determined, that within six months, [before the day he turns 30] he's going to get signed to a major Blues record label, against all odds and by any means necessary. And shortly thereafter he will go on to win the "W.C. Handy Award" for "Best New Blues Artist of the Year",
…Or so he hopes.
Along the journey into Johnny Childs' world, we begin to understand the incredible personal history that fuels his tremendous musical passion. Eight years in the making, and culminated from over 200 hours of footage and other media, this film follows Johnny as a 12 year old runaway, through his restrictive Ultra-Orthodox Jewish upbringing in Toronto, dealing cocaine in Miami and a strange but spirited journey thru Boston, Jerusalem, New York, Los Angeles and San Francisco. Ultimately, THE JUNKMAN'S SON is a candid, off the wall story about human determination and a portrayal of passion, excess, risk-taking, fame and the pursuit of one's own personal happiness.
What makes for a great bluesman? What is that special formula; the blend of factors that elevates the average blues player to above average greatness? Is it talent? Is it soul? What about life experience, hunger and determination? The fact of the matter is that a combination of any of these qualities has the ability to result in some fine blues music, but what about those rare occasions when all of these qualities come together in one artist? Well, if you're looking for a contemporary example, you need not look any further than Johnny Childs.
Childs spent almost a decade making a fascinating documentary that chronicled his life and his struggle to obtain a record deal. It is called THE JUNKMAN'S SON and The American Blues News had the great fortune of reviewing an early cut of it last year, when it was titled BLUES BEFORE SUNRISE. The film gives viewers an inside look at the trials and tribulations of a determined blues artist trying to "make it" in the unforgiving world of the music business as well as presents a life-story that needs to be seen to be believed.
Anyone that watches THE JUNKMAN'S SON will undoubtedly agree that Childs has life experience, hunger and determination to spar, but what about talent and soul? Thankfully, he has a new album that proves once again that he has those as well. It is titled GROOVE and it is his first studio effort since 2005's self-titled JOHNNY CHILDS. For it, he enlisted the help of Grammy Award winning producer Bruce Bromberg as well as a talented backing band that included bassist Cliff Schmitt, drummer Michael Bram and piantist/organist Dave Keys.
As a writer, Childs is more than adequate, but his real talents lie in his refreshingly unique, energetic and (at times) unorthodox style of guitar playing as well as his smooth/velvety vocals; a voice that could sound equally at ease crooning a standard from the American songbook, as it does pelting out a classically soulful blues lyric.
In addition, with his unique musical style, Childs is an artist that manages to avoid getting lost in the trap of blues cliché. He is one of those great contemporary blues talents that is able to pay tribute to the familiar conventions of the genre without being inhibited by them. He can shred over a 12-bar with the best of them, but is not afraid to explore newer (yet still familiar) territory…. and ultimately make the blues his own.
At 65+ minutes and 14 tracks, GROOVE runs a little longer than your average release and it seems to make a substantial effort not to pigeonhole itself as one kind of album. It explores many different facets of electric blues, which can sometimes be a dangerous venture for an artist. Often such albums can feel unfocused and scattered, but in the case of GROOVE, the concept works. Rather than having an air of uncertainty, the album feels like it has a very definite goal to explore the different sides of Johnny Childs and it manages to steer clear of being yet another thrown together hodgepodge of tired blues riffs. From Chicago blues and Texas swing to blues-rock, R&B and even traditional Jewish rhythms, GROOVE paints a picture of an interesting, complex and talented artist.
All in all, GROOVE is a very enjoyable album that is full of both, an abundance of tastefully executed guitar-work and fun compositions. It is definitely worth checking out.